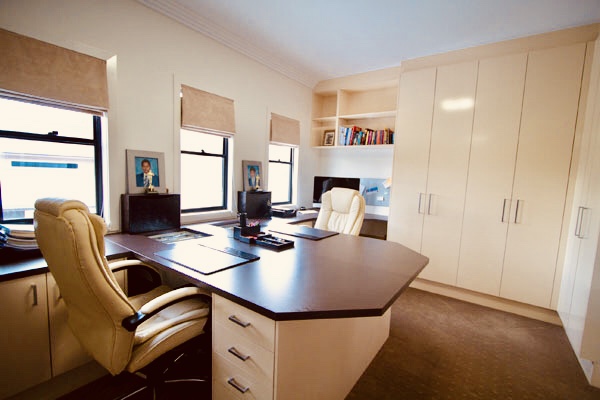 A home office is a must for most people these days. Whether you work at home or use your office for household admin, a dedicated space makes it easier to keep your affairs organised.
Most people need a space for files, reference materials, computer, printer and other peripherals. If you're designing a home office, here are some key points to keep in mind.
1. Define Your Needs
As you plan, look carefully at your needs.
What kind of work will you be doing? If you work at home, your needs may be different than if you use your office for household management.
How much time will you spend in your office? The layout should enhance workflow and accommodate paperwork, reference materials, office supplies and accessories.
How many people will use the space?
How much storage is needed? Wall shelving, file cabinets and bookshelves are a few options.
Will you need seating for clients or collaborators?
What equipment is needed? Besides computing, printing and photocopy needs, do you need a dedicated telephone/fax line or videoconferencing equipment?
Think about cable management, outlet extenders, surge protectors and message boards.
Answering these questions will determine the type of desk, shelving, storage and seating required to support your workspace.
2. Find a Space
You may not need a large space to meet your needs. The most important aspect in designating a space for an office is to set if off from the rest of the living area.
An unused guest room, an under-stair niche or a converted attic or basement can work well. Other possibilities include a kitchen nook or a closet.
3. Work With a Design Professional
If you have trouble visualising how an office can fit into your home, call a professional. The design team at Just Wardrobes & Storage can make use of unusual spaces to create an office that reflects your ideas.
We customise the design, using windows for natural light and aesthetics, adjusting shelving within the vertical space and providing storage to suit your needs.
4. Attention to Lighting
Your home office should have adequate lighting. Natural lighting should be incorporated into the design whenever possible.
Task lighting highlights specific work areas, and ambient lighting illuminates the entire space. Our designs also accommodate cable management systems, plugs and switches.
5. Define Your Storage Needs
Your office should have enough storage so that papers and other materials don't spill into various areas of the house. This makes it easier to find things and optimises efficiency.
Drawers and closed cabinets hide clutter. If you prefer a minimalist look, we offer options that are compatible with that style also.
6. Personalise the Space
Your office space should reflect your taste. Materials come in colours that complement a range of decorative styles. Glass cabinet fronts, open shelving and edging on shelves are a few options.
We also custom-design drawer systems and worktops. Personalise the space with wall art, family photos or objects that reflect your hobbies or profession.
If your office is a nook in an existing room, set it off with colours that are compatible with the rest of the room. Colour also defines a mood. Select colours for walls, furnishings, desktops and storage that evoke the mood you want.
Blues, violets and green are cool and calming. Reds are energetic, and yellows are happy and attention-grabbing.
Call Just Wardrobes & Storage on 07 5502 2444 for a free consultation. We talk with you about your needs, ideas and budget. We then take measurements and provide a detailed quote. As part of the design process, we provide 3D renderings and plans to help you visualise the space.