If you enjoy watching movies, TV or gaming, you'll need the perfect home media unit designed especially for your family.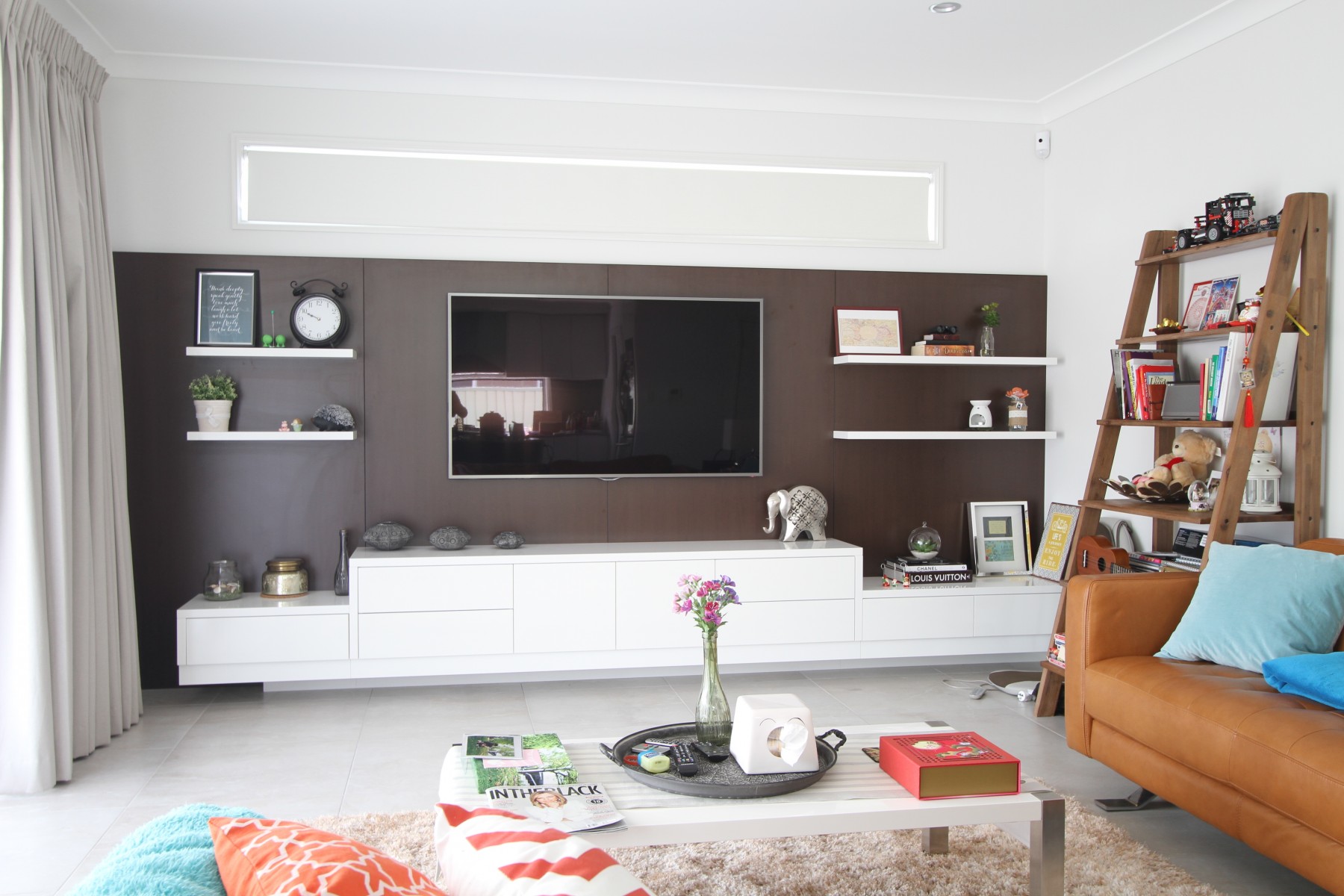 Bespoke media units can be organised according to your space and style, highlighting or concealing equipment with storage and shelving for DVDs, CDs, vinyl LPs, books and personal knickknacks.
Here at Just Wardrobes & Storage, we work one-on-one with you to design custom media systems that work for each unique space. We come to your home to evaluate your room and discuss your needs, taste and budget.
Here are some tips on designing the perfect media unit for your home.
Define the Space
A media unit should be integrated into a defined space for optimal visual and acoustic benefit, comfort and aesthetics.
Do you have a room set aside for your media centre?
Is your entertainment area part of your living room or study?
Will the media screen be mounted on a wall or be part of a console?
Will your unit include sound systems with CD players, amplifiers and speakers?
Each of these questions helps to define the area that will be dedicated to equipment and furniture.
The shape of a room affects the quality of sound and viewing experience. A professional design team can help you configure the furniture and media unit to get the best use of space.
Other things to consider include whether you want the media centre to be a focal point or just an element of a room. Placement and styling of the unit will be adjusted accordingly.
Choose a Decorative Style
The style you choose for your media unit should blend with the overall décor of the room. Sleek, uncluttered lines work with minimalist, industrial and modern décor.
Cabinets with doors or drawers allow you to store your equipment, devices and DVDs away from view behind closed doors. This minimises the sense of clutter and limits colour to the tones of the console and trim.
If your tastes run to eclectic or Bohemian, you may prefer open shelving that displays books, equipment and accessories. For classic décor, a mix of open and closed shelving adds texture and depth. Glass panels on cabinet doors add an elegant touch.
There are many styles to choose from, each designed to precisely fit your space. The aesthetics of the unit are enhanced by the arrangement of shelving, placement of viewing screens and colours of cabinetry.
We offer a wide range of timbergrain boards, white melamine and custom colours that will blend with your décor.
Attention to Details
After you define the space to be used for your media centre and choose a style, the details of the design can be clarified. An important element of a good-looking unit is how wiring is managed.
No matter how well designed a unit is, wires and cords running over flooring or across the unit creates a sense of clutter.
If you're building or remodelling, be sure to talk to the builder about including electrical outlets, cable outlets and wiring for a media unit.
If you're adding a media unit to an existing room, we help you plan wiring management. A licensed electrician should be contacted to install additional electrical outlets, cables and lighting as needed.
Wireless equipment helps minimise wires. However, you may still need routers, power strips and cable managers. These elements can be incorporated into the unit design so that they're hidden from view but accessible.
Placement of equipment affects the overall look of the unit. If a large screen will be a focal point, shelving and cabinets are designed to accentuate the screen. If equipment will sit on a cabinet, the height of the console and shelving around it are designed accordingly.
Your media centre can be stunning and long-lasting by clarifying your needs, budget and taste as part of the design process. Call Just Wardrobes & Storage today on 07 5502 2444 to get your free quote.