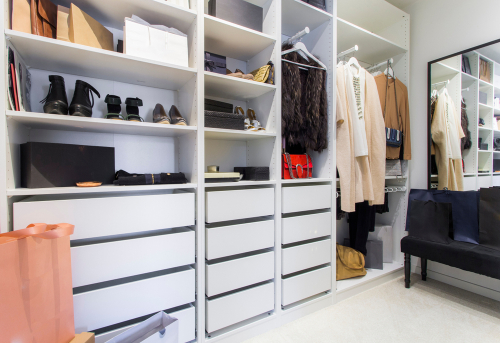 If you're considering installing a wardrobe, your first question may be about cost.
Is a Wardrobe Affordable?
Custom-built wardrobes are built according to your needs and budget. A wardrobe can be simple or elaborate depending on your design specifications.
At Just Wardrobes & Storage, we work closely with you to understand your storage requirements, your budget and your available space.
What are Your Functional Needs?
Well-designed wardrobes solve organisational needs and maximise use of space. We ask a lot of questions about your storage needs before we begin the design.
Your idea of a perfect robe may be suspended wire baskets, a high shelf for seasonal gear and lots of hanging space. For others, a walk-in robe with custom drawers, centre buffet and dressing area may be required.
The price is dependent on the materials, sizing and extras that go into the design.
Sizing and Space
A custom wardrobe is unique to your space. We measure your space carefully and thoroughly to make sure the finished work is custom-fitted to the space.
We look at ceiling height, corners, walls and windows as we evaluate the best place to fit the robe. Although walls may look straight, usually they're not. Ceilings may slope imperceptibly, and there may be electrical or plumbing projections that we must work around.
Because we build each wardrobe based on the shape and size of the space, the price will reflect the customised work.
Cost of Materials
Just Wardrobes offers a number of colours and woodgrain finishes that can complement the décor of your home. Finishes include matt, gloss and textured looks.
White melamine gives a classy look to a wardrobe. We also offer several timbergrain finishes ranging from natural oak to dark walnut. You can select edgings that give a personalised look to your robe.
We use high-quality boards from reputable manufacturers, including Polytec, Laminex, Formica, Lamicolor and Egger. We also use international materials from Hafele, Blum and Harn.
We recommend materials that complement your lifestyle, including products that are fire-retardant, water-resistant and environmentally certified as low-emission and low-toxicity. If you have small children, you may prefer easy-to-clean, chip-resistant materials.
Our powder-coated wire shelving options are affordable, allow items to breathe and maximise storage space. Custom-designed wire systems may include shelves, shoe racks, suspended baskets and several hanging options.
Extras
To make your wardrobe even more functional, extras can further customise the space. Shoe racks, tie racks, pant racks, hangers, hooks and drawer inserts are a few of the products we offer that let you organise according to your unique taste and needs. Drawer hardware, hanging rods and mirrors further customise the look.
Work With Design Professionals
At Just Wardrobes, our design team works one-on-one with you. We come to your home for a free measurement and consultation.
We recommend layouts and options that are practical and appealing. After you select a layout, our design team produces 3D drawings, plans and elevations of your tailor-made wardrobe to help you visualise the space.
We back up our custom cabinetry with a 7 year warranty on installation and materials. Our staff include expert cabinetmakers and we are fully licensed by the QBCC.
To find out the cost of a custom-designed wardrobe, call Just Wardrobes at 07 5502 2444. We will set up an obligation-free consultation to evaluate your storage needs and provide a quote.