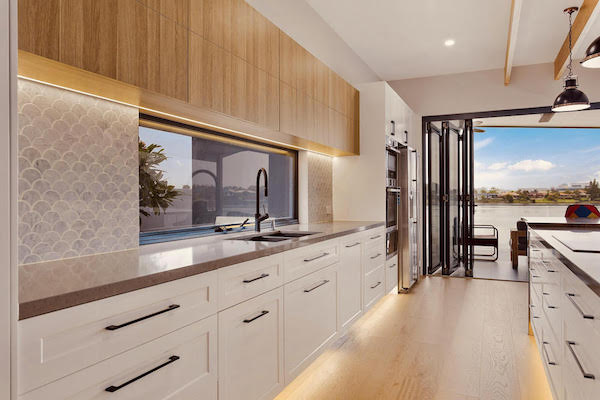 If your kitchen is looking old and tired or if you find the layout inefficient, there's ways to transform the look and enhance the usability without breaking the bank.
New cabinets can do more than just improve the appearance. With planning, you can add much needed storage space as part of the new look.
Changing the benchtops also will enhance the appearance of the kitchen, expand your workspace and have task areas better organised. Here's a few ideas to get you started.
Evaluate Your Space
After using your kitchen for years, you most likely know what features help with workflow and efficiency and those that are irritating or cumbersome.
Cabinets may be too small, awkwardly placed or look outdated. Well placed cabinetry and shelving will enhance efficiency. Not enough storage means that appliances, containers and utensils will get scattered on bench tops and create a messy look.
You may find your benchtops worn, unattractive or not adequately arranged to meet your needs. To plan for your redo, notice as you work where you would like more storage, have more countertop space and add work zones to enhance efficiency. You may also notice areas where benchtops could be removed or converted to another use.
A good way to evaluate and plan space is to work with a design professional. Here at Just Wardrobes & Storage, we provide free consultations and suggests ways to improve storage, efficiency and aesthetics of your kitchen.
The Appeal of New Cabinets
Our designers work with you to select materials and colours that enhance your space. For example, light colours and low-contrast colour schemes will make small kitchens look much bigger.
You can choose from high-quality timber grains in light shades such as light oak, ash and beech, or darker shades, such as walnut, spruce and ebony.
We also offer an array of shades in melamine from major manufacturers. Custom edging adds aesthetic appeal.
We suggest sizes and placement of cabinets that are compatible with your appliances, storage needs and work zones. Our cabinetry includes corner cabinets, drawers, pull-outs, below-counter storage, pantries and islands.
Open shelving breaks up the space and lets you highlight attractive features. We also tend to details that make the space uniquely yours, including crown mouldings, glass-fronted cabinets, sliding doors, recessed panelling and hardware.
Our personalised service includes 3D renderings of your space so you can see what the kitchen will look like before we start work.
Our cabinetmakers, joinery specialists and installers take your budget and tastes into consideration as we craft your new cabinets.
Benchtops Can Amplify Your Kitchen
Sparkling countertops and expanses of bench space are attractive and useful. If your benchtops are drab or inadequate, we can help you select materials that add pizzazz!
Stone, such as granite, quartz or marble gives a rich, cohesive look to counters. Although stone is more expensive, it resists heat, is long lasting and is good with spills. However, it can stain or pit if not resealed every year.
Laminate is equally attractive but less expensive. It's easy to clean, doesn't absorb water, is available in a wide variety of colours and can be coordinated with your cabinets, flooring and appliances. Add elegance to the look with contrasting edging.
Just Wardrobes & Storage offers a range of systems and materials that allow you to transform your kitchen while staying within your budget.
We arrange the time of installation according to your schedule. We undertake new construction, bespoke work and renovations. Call us at Just Wardrobes today at 07 5502 2444 to arrange a free quote.