If you're looking for creative ways to maximise space in a small home, don't forget underneath the stairs. Stair storage can add many cubic metres of storage space without encroaching on valuable living area. Here's a few ideas that make use of this area.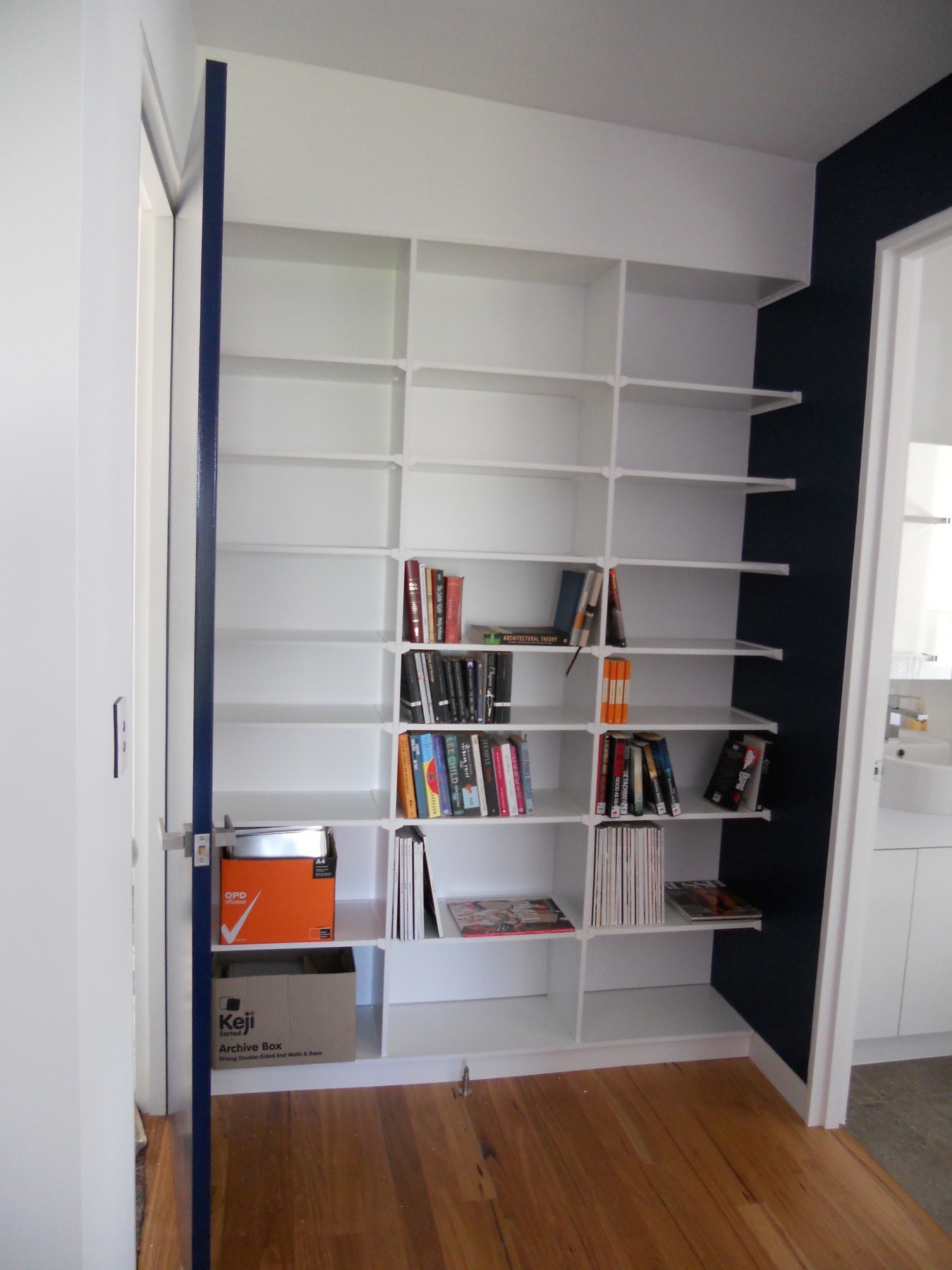 Open Shelving
If you want to display your belongings but keep them tucked away from walkways, open shelving under stairs can be used for books, crafts, kitchenware or attractive knickknacks. Shelving can be made to order so that items fit exactly into the space.
You can choose shelving colours to match your décor. Just Wardrobes & Storage offers a wide range of melamine timbergrain finishes that echo natural wood. We also have a large selection of coloured melamine for shelf surfaces and edging.
The design team at Just Wardrobes & Storage will measure your space and recommend shelving options that complement your décor.
For example, asymmetrical designs fit well with modern interiors. We can design and install shelving, drawers, pullouts and cabinets that optimise the space and meet your storage needs. Although pullout units and drawers are more expensive, they're easy to use and reduce clutter.
Hidden Storage
Finding places for boots, rain gear, bulky coats and off-season clothing is a challenge for those who live in small homes.
A concealed mudroom under the stairs is a perfect solution for storing unsightly gear. Shoe racks, shoe stands, hooks and slide-out wardrobe fittings organise these items and make them easily accessible.
If you need a place to house vacuums, brooms and cleaning supplies, under-stair storage keeps things organised but out of sight. If you need a place to quickly clean up the toys of an active toddler, consider pull-out drawers that make tidying up a breeze.
Bespoke drawers can be designed to give children easy access to their toys. It also encourages them to put them back by themselves. To make your living space look larger, install mirrors on the doors of the hidden storage area. Mirrors reflect light, making the space look brighter as well.
Under-Stair Activity Areas
Do you need a laundry room? Would you like a nook for an office? Our creative design team provides free consultations to assess the space and recommend ways to put it to good use. A small office may fit conveniently under your stairs.
Shelving, a desktop, drawers and a chair provide a functional home office neatly tucked under the stairs.
It doesn't take much space to accommodate an apartment-size washer and dryer. Add a counter over the tops of the appliances and shelves on the walls to create a workable laundry room.
Play Area
Why not convert the space under the stairs into a fun play area for children? A cute door can serve as an entry into a playhouse. Alternatively, leave the space open. Add a hanging light and bins and shelving for storage.
Call Just Wardrobes & Storage on 07 5502 2444 for your bespoke storage needs. We provide detailed plans so that you can visualise the space.
We come to your home, measure and provide quotes so you can select designs that fit with your budget and interior. The design ideas are endless. We help you find the right solution for your needs and living space.