A wardrobe is essential in organising your belongings and making good use of space. If you're planning a new wardrobe, be sure to include fittings that augment the storage space.
If your existing wardrobe needs a bit of micromanagement, wardrobe accessories make it easier to store, organise and find clothing, shoes, bags and accessories.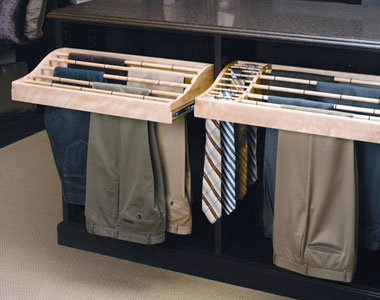 Here's a few essential wardrobe storage solutions that will ease the tension of the morning rush and keep your items sorted. From laundry trolleys to jewellery drawer inserts, Just Wardrobes & Storage offers bespoke wardrobe design and installation to create a well-ordered space.
Shoe Storage
It's easy to come home, kick off your shoes and toss them into the bottom of the closet. But when the morning arrives, those shoes are nowhere to be seen. Shoe storage solutions let you keep your shoes organised:
• Shoe boxes can be kept either inside or outside the wardrobe.
• Shoe racks, flat or angled can be built into the wardrobe and customised to suit your shoes.
• Pull-outs are convenient because you can view the selection and slip shoes in and out easily.
Wire racks and melamine shelving are two popular materials for shoe storage. We measure your space and create a custom storage system that meets your needs.
Drawer Organisers
It's the little things that often create big problems. Trying to find an earring in a drawer of lingerie is a frustrating exercise that often ends up in despair. Drawer dividers organise small items so they're easily found. Jewellery inserts are custom-designed to fit drawer spaces.
They can be lined with soft material to protect your valuables and keep them from sliding around as you open and shut the drawers.
Drawer separators let you make use of the convenience of drawers without having to face a jumble of ties, coins, scarves, socks or underwear. They can be added to existing drawers or crafted as part of a new wardrobe system.
Pull-Outs
Pull-out systems include shoe racks, trouser hanging rails, baskets, tie and belt organisers, valet rods and mirrors.
Drawer pull-outs range from wire baskets to towers of custom-made drawers to house anything and everything from blankets to T-shirts.
An alternative to a pull-out is a pull-down. If you have a tall wardrobe or a high space, pull-downs make use of that height. Also known as wardrobe lifts, they operate using a hydraulic mechanism that gently lowers clothing to a specified height. They're ideal for people who have limited reach.
Custom Design for Optimum Space
Just Wardrobes & Storage provides storage solutions for residents of the Gold Coast, Sunshine Coast and Brisbane. We provide free estimates to evaluate your space, needs and budget.
We make 3D renderings of custom-crafted storage solutions to help you visualise storage options. Wardrobe accessories provide tailored solutions to storage problems. For more information about our storage services, call Just Wardrobes & Storage on 07 5502 2444.