If you're updating an existing wardrobe or planning a new one, consider installing sliding doors instead of hinged doors.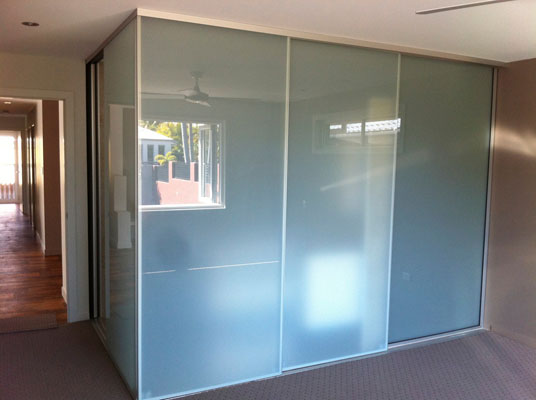 Sliding doors are excellent space-savers because doors slide along a horizontal track along the front of the wardrobe instead of opening into the room. If you have a small bedroom or if your wardrobe is in a high-traffic area, sliding doors are the way to go.
Sliding doors glide along tracks that are fixed to the top and bottom of the wardrobe frame. The sleek facade keeps a small space from looking cluttered and gives the illusion of more wall space.
The variety of materials and colours lets you select a look that complements your décor. Here at Just Wardrobes & Storage, we can help you select a wardrobe door that works well with your space, décor and budget.
Mirrored Doors
Mirrored sliding doors reflect light and make a room feel larger which is ideal for small spaces. There are several ways mirrors can be used on wardrobe doors. Mirrors on the entire door give a modern, clean look. If a full panel of mirrors is too much for your taste, they can also be applied as sections on part of the door and framed with coloured laminates, woodgrain, glass or painted surfaces.
Another design option is to install mirrors on the central door and another material on the others. This combination gives a contemporary look that can become a focal point in a room.
Glass Doors
Glass reflects light, which brightens a space. There are many colours of glass available, from pure white to black and a range in between.
Translucent or frosted glass shimmers with a muted transparency that hints at what is contained inside.
Melamine Doors
Melamine is a superb choice for active families and those who want coloured or textured sliding doors. Woodgrain finishes look like real wood without the weight and moisture problems that real wood has.
Woodgrain has a classic look that is always stylish. It also minimises the appearance of the cupboard, blending in without overwhelming the space. The variety of finishes lets you select a colour that matches furnishings, upholstery or artwork.
Melamine is available in a range of colours. Pair it with woodgrain, mirrors or glass. For a colourful kid's room, choose a different primary colour for each door panel. Contrasting edging individualises the look.
Here at Just Wardrobes & Storage, we work with you to create bespoke sliding wardrobe doors that reflect your taste and décor. We guarantee our work with a 3-year warranty on materials and installation.
We can provide you with a quote over the phone or via email with your approximate sliding door dimensions. Upon approval we'll come to your home or business and measure your space. For a free quote, call Just Wardrobes & Storage on 07 5502 2444 today.